HOBOT
Floor and Window Cleaning Robots
STOP DOING HOUSEHOLD CHORES - LET ROBOTS DO IT FOR YOU
Manage your time the way you want while a household robot cleans your house
We are the official authorized distributor of HOBOT products in the USA
HOBOT - Home Cleaning Robot
Testimonials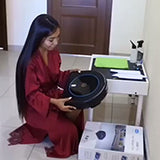 Guys, it really is really cool. First of all, my husband chose it, and he would check and verify everything hundred times over when it comes to technology.
We are very happy with the purchase. Now I don't have to vacuum and mop my floors.
Its advantages:
• Washes floors really well without leaving any traces.
• You can turn it on and leave your home. When you get back your floors are clean and robot is charging at the base.
• Huge advantage is wet mopping of the floors. Washing cloths mop at the speed of 600 movements per minute! Amazing! Since my floors are white, keeping them clean is a challenge. Now I only have to turn my robot on every day.
• Once it detects objects on its way, it approaches them slowly and carefully.
• Stylish and beautiful.
• After the cleaning, it moves to its base to charge.
We really love it a lot. It's such an essential part of our family.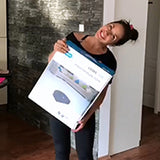 I am a fan of being fit, but twisting and turning along with my mop is not my preferred exercise.
If I didn't have other options, I guess I would be ok with it, but I would rather let my vacuum/mop robot do this task for me.
In my opinion, it's great all around.
• Good looking, and it's important.
• Suitable for any type of hard surface.
• Vacuums, collects dust with a dry cloth, then sprays water and polishes surface with another cloth. It would be such a hassle to do it on my own.
• Wipes all water with no traces, but also can switch to a dry mode of cleaning without any water at all.
• Picks up all the particles on its way, and has a dust container that can be easily emptied.
• Included are 3 extra cloths.
While it cleans all my floors, I can go exercise with my husband and kids, or got to work…Super!
Another proof that marching along in a new age of modern technology is a lot more convenient than being stuck in old ways.
Representation
Home Robot Office
217 Miracle Strip Pkwy SE, Fort Walton Beach, FL
MON - FRI, 8AM - 5PM
SATURDAY, CLOSED
SUNDAY, CLOSED
Get directions
Follow @hobot.usa on Instagram